TJ Taylor delivers English language courses for companies and professionals.
Courses are designed around you, with language training that is tailored to your managers and employees.
Intensive courses for professionals and executives
The intensive Business English courses are designed specifically for managers and professionals who want to improve their English language skills as rapidly as possible:
Language training for your company
We offer a complete range of corporate courses at all levels, for groups and individuals, in all formats:
Videoconference and online courses
Business English courses in-company
Coaching in English and communication skills
Trusted by over 100 companies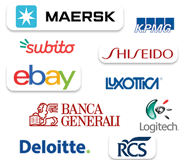 Since 2003 we have helped thousands of executives and professionals improve their English, in companies of every size and sector.
Today we deliver over 15,000 hours of training every year.
Find out why 98% of our clients rate us positively:
Customised courses, designed around you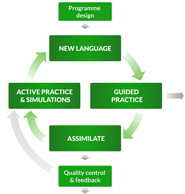 Every business is different, and so are their people's training needs.
To find the best solution for your company, first we analyse your language skill gaps, and your training objectives.
We design the course around you, using our expertise and business experience to customise the course structure, objectives and content.
"In my opinion the course was very good. The teacher was very helpful, knowledgeable...the lessons on oral comprehension and speaking were also very good."
Davide Priore
Business Analyst, Luxottica
"Excellent teacher. Excellent school. Very professional. Truly useful compared to many other courses. Absolutely recommended."
Sabrina Fenoglio
HR Manager, LVMH
We focus on the individual and their practical communication needs, to deliver a better return on investment in terms of teamwork, productivity and talent retention.
Questions?
Do you have a question about our English courses? Want to talk about you or your company's specific needs?
Call us on +39 02 4300 19075 or contact us by email.